You probably heard of Google's Project Ara endeavor, which aims to allow users to build modular smartphones, based on their own preferences and needs.
In the same fashion, BLOCKs is also working towards a modular smartwatch. But what about a tablet built around the same principles?
Meet the Click ARM One tablet, which is basically designed to let users swap in and out different modules, just like it's the case with Project Ara.
The tablet is offered with removable modules for storage, memory and even display. The Click ARM One tablet is already up for pre-order for around $313 / €289, but don't let its name confuse you, as it has nothing to do with the chip design firm. ARM actually stands for Advanced Removable Modules.
The company behind the tablet, ImasD, has also partnered up with Circular Devices in order to launch a modular phone dubbed the PuzzlePhone.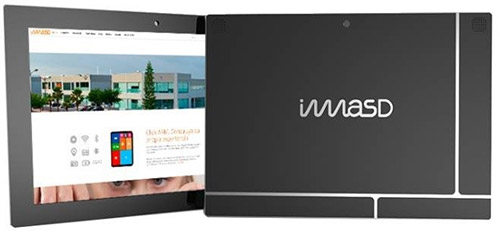 Anyway, going back to the tablet, the Click ARM One slate will initially ship with a CK Core Module featuring a Samsung Exynos 4412 processor plus 2GB of RAM.
Its design allows users to swap out the unnecessary cores and replace them with new models, or replace them with other cores with more memory and so on. Provided someone takes up the endeavor of building compatible parts for the device.
Other modular components include a motherboard with HDMI, Wi-Fi, Bluetooth and USB, 16GB of internal storage plus a 10.1-inch display with 1280 x 800 pixel resolution. Each of these modules is replaceable in theory.
ImasD is also calling out to third-party hardware manufacturers to help design their own modules to be connected to the Click ARM One via a mini PCI Express port.
The Click ARM One tablet is currently a pretty limited affair. For starters, only approximately 1,000 units of the device will be sold. What's more, the company is committed to making the slate a pretty open-source affair, so it has promised it will make users choose between Android, Ubuntu and Tizen as the default operating system onboard.
Hopefully, soon we're going to see ImasD add more module options to the table.