AMD has issued more details about its Carrizo accelerated processing unit (APU). Revealed at the International Solid-State Circuits Conference and building on the announcement from last year, the chip manufacturer claims the new chip will have 3.1 billion transistors, 29 percent more than current Kaveri APUs in the same die area, with a 3.5x improvement on transcode performance and a 40-percent power saving also promised.
The Excavator cores, a fourth-generation Bulldozer core that takes advantage of High Density Libraries (HDL) to reduce its size and power, are combined with a total of eight AMD Radeon cores on the 28nm system-on-chip (SoC). Using the high-density design, the Excavator cores are now smaller by 23 percent, allowing it to run at a far lower power than earlier iterations at equivalent speeds.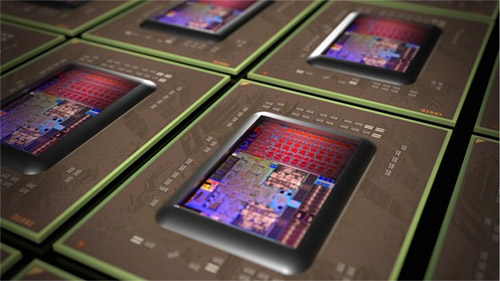 Power savings stem from multiple changes to the APU, with the bulk of the savings coming from voltage adaptive operation. Variations in voltage of approximately 10 percent are said to lead to the use of 20 percent more power to cover the gap, increasing the power used. AMD's voltage adaptation system works by allowing the APU to operate at the average voltage, temporarily reducing frequency when voltage drops for brief periods. It is claimed that this technique applied to the CPU and GPU aspects results in respective power savings of 19 percent and 10 percent.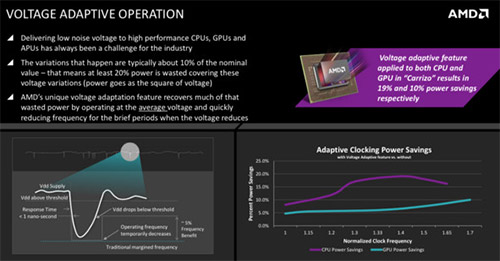 Carrizo APUs will also be the first to use the Heterogeneous Systems Architecture (HSA), and will be the first HSA 1.0-compliant SoC. HSA effectively allows for the CPU and GPU cores to work together more efficiently, such as the CPU handing over visual tasks to GPU, making better use of on-chip resources and in turn improving performance.
Targeted at the notebook and all-in-one device markets, the Carrizo APUs are expected to head to market in the middle of 2015, with AMD hoping it will improve their bottom line. In January, AMD revealed it had switched from a minor profit in two consecutive quarters to a net loss of $364 for the quarter, on revenues of $1.24 billion.