Pebble has unveiled its second generation of smartwatch, the Pebble Time, as a wearable device featuring an upgraded color e-paper display. Repeating what the company did for the original Pebble smartwatch, the Pebble Time is being made available through Kickstarter, with the crowdfunding campaign exceeding its goal barely after it launched.
The Pebble Time is 20 percent thinner than the original, with the always-on 64-color display being protected by Gorilla Glass. On the sides are four buttons for navigation, and just like the original, typical 22mm watch straps can replace the ones supplied with the device, and battery life is said to last for up to seven days. It will also be compatible with the 6,500 existing Pebble apps and faces.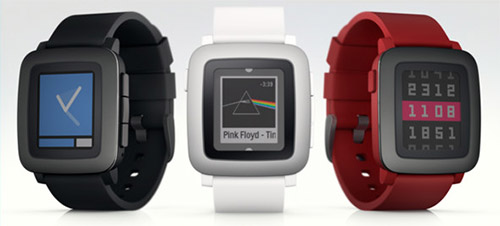 Aside from the 1.26-inch 144x168 display, new items added in this iteration include a microphone, which can be used to make voice replies to notifications or to take short voice notes, rather than for conversation. Despite the new hole for the microphone, the Pebble Time remains water resistant. A smart accessory port is also included, allowing for more sensors to be attached for increased functionality, such as a heart rate monitor.
A new "timeline" interface has also been introduced, as hinted by CEO Eric Migicovsky, categorizing notifications as either from the past or future. Items are listed chronologically, with step counts and other previous notifications from apps listed in the past category, while upcoming event notifications and appointment reminders appear much lower on the line.
The decision to sell the Pebble Time on Kickstarter has been good so far for the company, with the initial 10,000 watches under the $159 Early Bird tier already exhausted, with the $179 tier still available at the time of writing, though after the campaign the price will rise to $199. The original crowdfunding campaign raised $100,000 in just two hours, eventually selling out at just over $10 million. At the time of publication, the Pebble Time is sitting at $3.4 million, and is on track to eclipse the original's total in a very short space of time.
The popularity on Kickstarter could be a good sign for the company, currently having to compete against Android Wear and with the Apple Watch release coming soon. As with the original Pebble and the Pebble Steel, it does have a major advantage over Android Wear and the Apple Watch, in that it is compatible with both Android and iOS.