Soon all eyes in the tech industry will turn towards Samsung who is expected to unveil its latest flagship, the Galaxy S6, during a press event at MWC 2015 in Barcelona next month.
The Galaxy S6 should arrive equipped with a host of improvements, but one of the biggest changes comes in the hardware department.
For the first time ever, Samsung has decided against using Qualcomm's latest high-end platform, the Snapdragon 810 in its flagship phone and rely solely on its own Exynos 7420 platform.
For the past few months, we have constantly been hearing that the Snapdragon 810 was plagued by overheating issues, but is this the perfect excuse for Samsung to be pushing its own agenda, silicone-wise?
Quite possibly. A new report coming out of Business Korea seems to confirm this theory. One of the reasons Qualcomm chips have seen such a wide adoption into flagship devices is because the US chip giant offers complete single-chip solutions, meaning that their platforms come equipped with on-board modem solutions.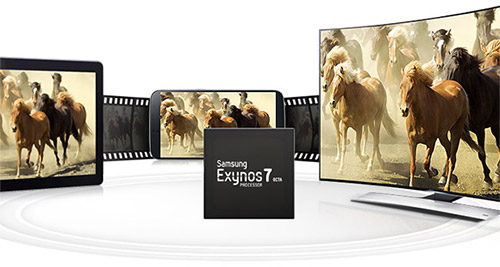 But Samsung is looking for a way to break this pattern. The Korean tech giant has been intensely focusing on its home grown chip business as of late and they have big plans set up for the future.
According to the report, Samsung is looking to introduce a single-chip solution with modem included destined for the premium market sometime in the fourth quarter of the year.
Samsung bundled some of its own single-chip solutions into a bunch of mid-range products like Galaxy S5 Mini, but it never pushed it as far as the high-end market.
So it's fair to hypothesize that the Galaxy Note 5 and the successor of the Galaxy S6 will come devoid of any Qualcomm interference.
Samsung is off to a good start with the Galaxy S6. The Exynos 7420 has been spotted going through benchmarks and showed superior performance to the Snapdragon 810 in various performance tests.
So if you were worried the Galaxy S6 won't be that snappy, don't be. A few days ago, the Galaxy S6 Edge variant went through AnTuTu to score a massive score of 60K points, the biggest that was ever recorded.