In the past few months, we've been telling you Qualcomm has been trying to fix some pesky overheating issues with the Snapdragon 810 chip.
These problems were so severe that one of the world's biggest tech players, Samsung - which is gearing up to unveil its Galaxy S6 flagship at MWC 2015 - got cold feet and abandoned its original plans of using the Snapdragon 810 for its upcoming phone.
However, other device makers were braver. For example, LG and Xiaomi were the first device makers to announce handsets taking advantage of the controversial platform. LG even came out to defend the chip at some point, saying the Snapdragon 810 doesn't suffer from overheating problems at all.
The fate of Qualcomm's high-end silicone piece has been under scrutiny, but now G for Games states that a report picked up from China's social network Weibo is claiming Snapdragon 810's overheating issues have finally been solved.
A Chinese analyst who has a spotless reputation in the country claimed that insider sources at TSMC (the company that is in charge of actually producing the designs supplied by Qualcomm) told him the Snapdragon 810 has finally been given the green light.
More than that, the chip is expected to start mass production beginning mid-March or immediately after the Mobile World Congress in Barcelona closes its gates.
At MWC 2015 we're bound to see a few flagships taking advantage of the platform be officially launched. We're thinking of the HTC One M9 and Lenovo Vibe Z3 Pro.
But they will just make up the tip of the iceberg. Sony's Xperia Z4, LG's G4 or OnePlus' 2 models are also supposed to bundle the platform.
So despite losing Samsung as a customer, Qualcomm still has a pretty strong year ahead while its octa-core Snapdragon 810 is concerned.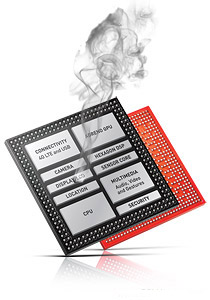 Now if we're to listen to what's being thrown around on the web, Qualcomm is already prepping the successor of the Snapdragon 810, which will debut as the Snapdragon 820.
It appears this particular chip will be the first custom model to take advantage of 64-bit CPU cores under the Taipan architecture. It should arrive in an octa-core configuration with eight TS2 high-performance cores.