Two upcoming Qualcomm Snapdragon chipset specs have been leaked online, and they clearly employ ARM's just-announced Cortex-A72 architecture, codenamed "Maia". Dubbed MSM8976 and MSM8956, the chipsets will likely end up being in the midrange 600 family of Qualcomm, probably a Snapdragon 618 and 620, given that we already have a 64-bit Snapdragon 615 that powers handsets like the Galaxy A7. If you are wondering why not the top-shelf 800 family, bear in mind that Cortex-A72 will actually be an upper midrange CPU architecture, aimed at a good performance/power consumption ratio, while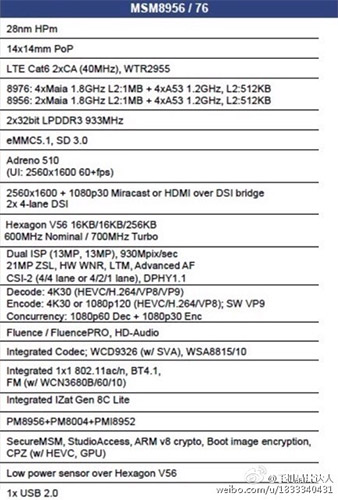 As you can see in the leaked spec sheet, MSM8956 will utilize two Cortex-A72 cores clocked up to 1.8 GHz, and four low-power Cortex-A53 cores, running at 1.2 GHz. The MSM8976, likely Snapdragon 620, will be an octa-core configuration, with four Cortex-A72 units taking the 1.8 GHz lead. Judging from the maximum clock frequency, these SoCs are likely aimed at the upper midrange echelon, rather than unleashing the full A72 power which will probably happen with a Snapdragon 8xx packaging of ARM's new architecture.
The rest of the specs show an Adreno 510 graphics processor that supports up to Quad HD displays at 60fps refresh rate, up to 21 MP camera sensor support, and 1080p video encoding at 60fps. Not too shabby, but, given that they are listed as 28nm, these are unlikely to demonstrate the up to 70% power savings promised by ARM upon the Cortex-A72 unveiling yesterday, as the new cores are made specifically with the 16nm process in mind. By the time these hit phones next year, though, Qualcomm might have moved to the 16nm conveyor belts, too.