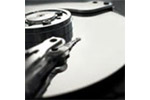 Japanese Showa Denko (SDK) will start this March shipments of 2.5-inch hard disk (HD) media with storage capacity of 750 gigabytes per disk, the world's highest storage capacity for this size available on the market to date.
While SDK is now mass-producing 2.5- and 3.5-inch sixth- and seventh-generation HD media using perpendicular magnetic recording (PMR) technology, the new 2.5-inch HD media is classified into the eighth-generation of PMR media.
Compared with the conventional technology that stores magnetic data on a horizontal plane of the HD media, the PMR technology enables vertical magnetic recording, resulting in an increase in recording density.
SDK also plans to accelerate the development of next generation 2.5-inch HD media with storage capacity of 1 terabytes.
As part of its medium-term consolidated business plan 'PEGASUS,' SDK places the HD media business as one of two wings to improve the performance of the Showa Denko Group, while placing the graphite electrode business as the other wing.