There are wearables that can measure all sorts of activities, like the distance we've run, the number of steps we've taken, the amount of calories burnt, our heart rate, and etc. However what about wearables that have the potential to detect if you are in danger of an impending stroke? Well that's what folks at the Samsung Creativity Lab have come up with.
Engineers at Samsung's C-Labs have announced that they are working on a wearable that has the ability to detect strokes in the wearer. The device is basically a headset that the user wears, as you can see in the image above, and through the monitoring of brainwaves combined with an algorithm, it will be able to detect whether the user is at risk at stroking and whether they should consult a doctor or receive immediate help.
According to Samsung's engineers, what makes their Early Detection Sensor and Algorithm Package (EDSAP) better is, "Firstly, EDSAP sensors are able to monitor and analyze brainwaves much faster than the 15 minutes or so required for existing brainwave monitoring equipment at hospitals. Secondly, the sensors are able to scan brainwaves in comprehensive detail, largely thanks to the highly conductive rubber-like material discovered by Lim and his team. Thirdly, the sensors are easy to wear."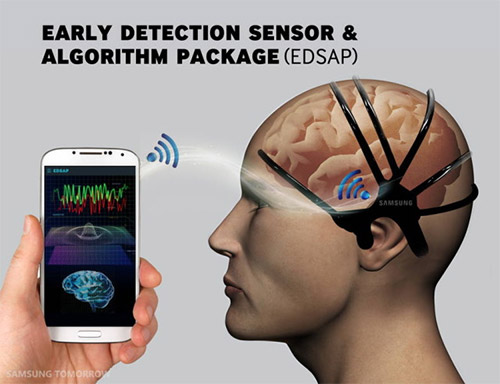 As it stands, the device is currently a prototype and there is no word on whether or not it could ever see the light of day, but at the same time we guess it's refreshing to learn that Samsung could be working on technology that could potentially be applied to other products in the future as well.