ВWhile we are still waiting for Qualcomm to start shipping out batches of its high-end Snapdragon 810 chip to device manufacturers like Xiaomi and LG, the chip-makers roadmap for the second half of 2015 has already leaked.
Twitter account @leaksfly has managed to get ahold of information that reveals what we can expect from Qualcomm throughout this year.
For starters, the successor of the "current" Snapdragon 810 will be the Snapdragon 820. Its purported specifications reveal two major differences.
Traditionally, Snapdragon chips are based on Krait CP cores, but the transition into 64-bit territory happened to come at the same time with the end of life for Krait. So the Snapdragon 810 was released without its own custom core.
But the Snapdragon 820 appears to be the first custom model to take advantage of 64-bit CPU cores under the Taipan architecture.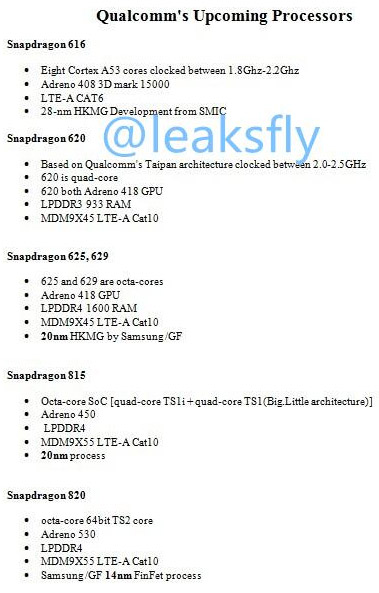 The silicone bit should arrive in an octa-core formation with eight TS2 high-performance cores.
The second important change is that with the Snapdragon 820, Qualcomm will be transitioning to 14nm FinFet manufacturing, which will bring about visible improvements in performance and overall efficiency. Samsung and GlobalFoundries will be in charge of the production.
The Snapdragon 820 will also come equipped with new Adreno 530 GPU, faster LPDDR4 RAM and add support to MDM9X55 LTE-A Cat.10 Qualcomm modem.
But wait, there are more chips we have to look forward to in 2015.