Microsoft is continuing to make its Lumia lineup of Windows Phones even more affordable with the launch of Lumia 435 and 532. The two 4-inch phones will cost about €69 and €79 respectively (about $81 and $93), before any operator incentives are added.
While one phone is a member of a new 400 series, and the other is a 500 series device, the two handsets are far more similar than they are different. Both use 1.2GHz Snapdragon processors; dual-core in the 435, quad-core in the 532. Both have 4-inch 800×480 screens, with the 532 supporting the Glance feature found on many other Lumias. Both have 1GB of RAM and 8GB of internal storage, and both support microSD cards up to 128GB. Both are 3G devices supporting up to 42Mbps HSDPA. Both have VGA-quality front-facing cameras. The biggest practical difference is in the rear-facing cameras: 2MP fixed focus on the 435, 5MP fixed focus on the 532.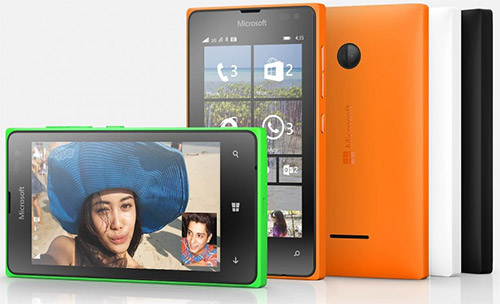 Nokia Lumia 435

They're also nearly identical in size and appearance: they're a little on the thick side (11.7mm/11.6mm for 435/532) but otherwise quite small, as befits the 4-inch screen.
For the most part, the two phones slot in neatly enough below the Lumia 535 in Microsoft's product line-up. They share various traits with the 535; they all have replaceable back covers (available in orange, green, black, and white) and replaceable batteries.
Oddly, unlike all the other low-end Lumia releases we've seen recently, the 435 and 532 retain the three front buttons (others use on-screen buttons).
Nokia Lumia 532

The inclusion of these new phones makes the Lumia lineup a little cramped at the low end. The Lumia 530 is plainly surpassed by both the 532 and the 535. In fact, we'd wager that the user experience of the Lumia 435 is superior to that of the 530. Although the 530 has more cores and more megapixels, the 1GB RAM and proximity and ambient light sensors on the 435 will result in better software compatibility and greater convenience.
The Lumia 630 and 635 also look increasingly underspecced, lacking the front facing camera, the full 1GB of RAM, and ambient light and proximity sensors, all found on the 435, 532, and 535.
The 435 and 532 will go on sale in February in Europe, Asia-Pacific, India, the Middle East, and Africa.