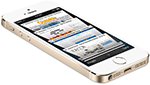 The Far East is teeming with new iPhone rumors as we approach 2015, but few reports about the upcoming smartphone line seem legit. Such is the case with this new claim that Apple will be making a return to 4-inch displays next year.
A Google-translated report by feng.com citing Taiwan's "Electronic Times" (potentially a poorly translated DigiTimes) claims that, for single-handed use, Apple will continue to push 4-inch screens onto the customer base that demands a small but powerful smartphone from Apple.
Supply chain sources cited in the report say that, starting with the second half of 2015, Apple will offer a new 4-inch iPhone that apparently supersedes the current-selling iPhone 5c. The reason cited by the sources in question is primarily one-handed use. Apparently, many users find even the regular iPhone 6 too big for single-hand operations.
While the iPhone 6 Plus – with its 5.5-inch display – is indeed too big to be used solely with one hand by most people, the smaller iPhone 6 – which carries a 4.7-inch screen – has not been declared problematic when it comes to wielding it with one hand. Which makes this rumor hardly credible, especially looking at the lackluster sales recorded by the iPhone 5c, Apple's current-selling 4-inch smartphone.
That being said, the iPhone 5 and iPhone 5s also feature 4-inch displays. These two models sold in record numbers, but this was before Apple upped the ante to 4.7 and 5.5 inches, respectively.
It can't be ruled out that Apple may be planning a repositioning of the 4-inch specification using an even smaller price tag than before. iPhone 5c was by no means a cheap device when it was released in the autumn of 2013, and it still isn't, even in its 8GB form. However, continuing down this path using many of the same parts will allow the company to bring down manufacturing costs considerably. Apple may have a hard time admitting that it can't sell a cheap phone.
December kicked off with rumors ranging from iPhone 6S launching in spring to iPhone 7 launching as early as next year. Apple's well-known refresh rate is in conflict with these claims and we can't put any more faith in them than you can.
At the same time, any potential leak from the Far East – where these things get manufactured – is worth considering. The first detail regarding any new iDevice almost always comes from there, so we need to make sure we've covered every base. Just don't read into these allegations too much for the time being. It's still much too early to be talking about Apple's next line of smartphones, especially when the iPhone 6 hype has yet to cool down.