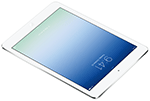 Japanese publication Mac Fan claims that Apple's highly-rumored 12-inch iPad is coming in the first half of 2015.
Until now, we were expecting to see the 12-inch "iPad Pro" sometime next year. Now an Apple enthusiast publication says that the the tablet is going to be called the iPad Air Plus and it will have the same dimensions as a sheet of A4 paper -- 305mm x 220mm. However, at 7mm it will be thicker.
The device will be powered by a new A9 processor, will have four speakers -- one at each corner. As for its launch, Apple Fan says it will start shipping between April and June 2015.
The publication also claims the launch will coincide with Apple bringing out a fourth-generation iPad Mini.