Samsung announced an interesting move by renaming its Exynos 5433 chipset to the Exynos 7 Octa. The chipset is powering one of the versions of the Galaxy Note 4 and was previously known as the Exynos 5 Octa (5433). Apparently Samsung thought its first 64-bit chip deserved better treatment than that.
With the Exynos 7 Octa, the company is going to have a much better time with customers differentiating the more powerful Galaxy Note 4 from the Galaxy Alpha, which also packs an Exynos 5 Octa (5430). However, it's a much less powerful one with a quad-core 1.8 GHz Cortex-A15 and quad-core 1.3 GHz Cortex-A7 CPU.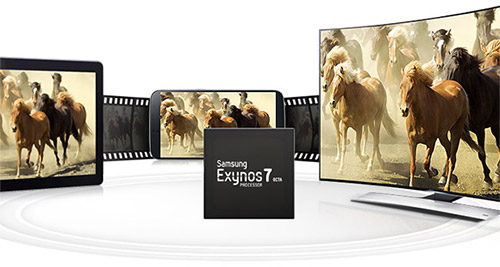 The Exynos 7 Octa features a octa-core cpu consisting of four Cortex-A57 and for Cortex-A53 cores made using Samsung's 20nm manufacturing process. This results in a 57% boost performance over the previous generation Exynos 5 Octa chipset and thanks to the new manufacturing process, draws less power, too.
Give how well the Snapdragon S805 Galaxy Note 4 fared in our review, we are really eager to see what the Exynos units will do.