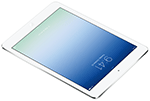 Apple is already shipping "mass quantities" of a new product to the US, apparently with the aim an October 24 launch, a source says. The product in question is unspecified, but given the timing it's anticipated to be the second-generation iPad Air, third-gen iPad mini, or both. Apple has an iPad-centric press event scheduled for this Thursday, and typically likes to ship new iOS devices a little over a week after their introduction.
Another matter still in the air is whether Apple will ship both new iPads on the same day, or on staggered dates. Last year, the first-gen Air debuted on November 1, with the second-gen Mini only going on sale a few weeks later. That was due to low supplies of the Mini, however, and there have been no rumors of low production volumes so far.
If the new iPads are indeed set launch on the 24th, preorders will likely open on the 16th or 17th, since Apple will need at least that much time to process and deliver them.