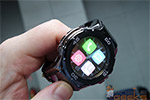 Most smartwatches today can do a lot of things – for starters they can relay notifications, answer your most stringent questions or even let you browse the web a little bit (Opera Mini is officially supporting the Samsung Gear S).
However, when you are not actively involved in using the display, the smartwatches turn into black (or dim) lit objects just hanging on your wrist showing nothing.
But that's not the case with the Halo smartwatch, which is a bit of an odd ball when compared to the rest of the intelligent time-pieces you see on the market today.
Basically, the Halo is a traditional-looking piece with an analog face to go along for the ride. It has little hands that move across its face showing you the time, but on top of that, there's a transparent OLED screen used to display digital information (as seen at Mobile Geeks).
It is a round OLED display with 96 x 96 pixel density and 8-bit color depth for up to 256 colors. So yes, you won't be able to browse media on your wrist, but you can do other stuff like read your notifications for text messages, phone calls and the like.
The Halo watch acts like the normal watches we're all accustomed to when the OLED display is off. By virtue of a button press, the secondary display will turn on bringing forth controls like music player, stopwatch and other similar functions.
As for specs per-se, the watch draws power from an Intel XMM 2231 processor (which is designed to go into future phones) at 300MHz, fitted with 512MB of RAM and 4GB of internal storage. The watch runs an outdated version of Android, 2.3 Gingerbread.
It takes advantage of an USB charger, while the battery can sustain up to 3 days of battery life.
The company behind the Halo smartwatches is called Lonshine and says that they want to offer two different models of the device.
One will act as a companion device for a smartphone, meaning you'll have to pair it with a handset if you want the wearable product to be any good, while the other will arrive bundled with 2G so it will be able to connect to the Internet without having a phone around.
The Halo isn't the only such product bringing mechanical time-keeping with a transparent OLED display. Back in the day, we talked about the Kairos smartwatch, which functions along the same principles.
The watch is currently up for pre-order, but most of you will probably turn away once they see the ridiculously high rate it sales for (starts at $549 / €434).