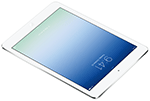 Apple is indeed working on a 12.9-inch iPad, but production of the tablet probably won't start until 2015, say supply chain sources in contact with the Wall Street Journal. "The top priority for the supply chain is to meet the overwhelming demand for the larger screen iPhones," one source says. "The output of the 5.5-inch iPhone 6 Plus remains unsatisfactory. It would be challenging for display makers to split resources and spend a few months to ramp up production for a new larger screen iPad now."
Reportedly, Apple suppliers had been planning to ramp up to mass manufacturing in December. The Journal notes that Foxconn has been having trouble meeting iPhone 6 demand; a company official says that chairman Terry Guo is touring factories in Zhengzhou to personally oversee manufacturing.
Other rumors have hinted at a 2015 launch for the tablet, but with production starting this year. A delay could mean that the tablet won't ship until at least February or March, if not later. Prior to the fourth-generation iPad, all iPad releases took place in March or April.