A new report in The Economic Times of India confirms that Samsung, the world's largest smartphone maker, has revived plans to launch a smartphone based on Tizen. The project is reportedly being refocused on budget devices, and is expected to culminate with the launch of the world's first Tizen smartphone in India this November.
In a comment to the paper Tarun Malik, Samsung's media chief for southwest Asia, announced:
We started late [in the Indian market], but we are very focused. We are not shooting in the wild. This is a game that has to be led by the device manufacturer and not the pipe (telecom operators).
We have a few more (offerings) in the pipeline over the next couple of weeks. One is a new Tizen device. It will coexist with the Android devices. We do both creation and curation of content for our devices.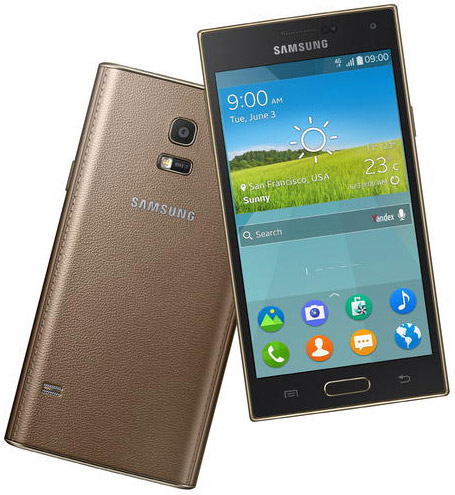 Tizen is a Linux-based mobile operating system under development by a coalition of mobile firms led by Samsung and Intel. In time it holds the promise of emerging as a competitor to Google Android and Apple iOS.
But plans were dealt a serious setback last month when Samsung scrapped plans to launch the Samsung Z, a "decent premium device" whose highlight was a speedy Intel Atom mobile processor. The phone had been expected to launch in Russia at a Moscow press event in July, but Samsung announced an embarrassing no-show at the last moment.
Tizen insiders had reported at the time that the Samsung Z (SM-Z910F) was being ditched in favor of plans to develop a pair of budget devices -- the SM-Z130H and SM-130E. It's unclear which device is launching in two months.
The report states:
The team is also responsible to promote and spruce up devices that are based on Tizen, an open-source mobile operating system built by Samsung. Tizen-based devices will be introduced in the Indian market in November.
PhoneArena adds:
This may be the Samsung SM-Z130 - which could cost around $200 unlocked (thus, we're expecting it to offer pretty modest features).
Last month Samsung launched a Tizen-powered smartwatch, the Samsung Gear S. But its ambitions remain fixed on Tizen as a platform in the smartphone market, not just a wearable experiment.
Samsung hopes to succeed in India, the world's second most populous country after stumbling into second in the Chinese smartphone market, the world's largest market by volume. With Xiaomi -- a domestic OEM -- already having passed the South Korean phonemaker, more hungry Chinese OEMs are waiting in the wings to devour more of Samsung's market share.
India could be the answer. Last year 351 million smartphones were sold in China (population: 1.35 billion) in 2013, only 44 million were sold in India (population: 1.21 billion), according to the Interactive Data. Given its population and rising affluence, India is poised for explosive smartphone growth, even as the pace of growth slows in China.
Samsung is currently India's top smartphone maker, with roughly one fifth of the market, according to the IDC's global smartphone tracker. However, it will face a tough challenge selling its new Tizen devices. Microsoft Lumia Windows Phones are gaining in popularity in India and Google just its Android One series of sub-$110 USD smartphones, which launches in the Indian market in the next month.
But it's perhaps premature to consider the competition. It will be a major accomplishment if Samsung can even launch a Tizen smartphone, after its struggles thus far.