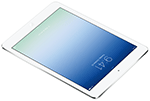 Apple's next press event should take place in mid- to late October, a source tells AppleInsider. The company has reportedly set internal project and marketing deadlines for mid-October, ahead of a planned announcement. Previous rumors have called for an October event, but without specifying more precise timing.
The source hasn't said what will appear in October, but the company is typically expected to reveal new generations of the iPad Air and iPad mini with A8 processors, Touch ID sensors, and slightly refined external designs. It's unclear if they will support Apple Pay, which is also slated to arrive in October. Although using an iPad for retail purchases is impractical, Apple could still allow people to conduct online-only transactions.
Apple should also launch OS X Yosemite by, on, or shortly after the event. The OS is already on its third public beta, and was originally promised to ship sometime this fall. Less certain is whether Apple will have new Macs to debut, since some updates have already been made this year and rumors have positioned major redesigns -- like a 12-inch Retina MacBook Air -- in 2015. A new Apple TV is likewise only expected next year.
Update: Sources for the Daily Dot say that the event will take place October 21st. This is disputed however by The Loop's Jim Dalrymple, who simply says "Nope." Dalrymple is known to have close sources and a reliable track record on such matters.