AMD hasn't been harping about its next generation of graphics processing units as much as NVIDIA has, but that doesn't mean it's not preparing a counter move to them.
Indeed, it would appear that the Sunnyvale, California-based company will either launch its response at the same time as NVIDIA releases the GeForce GTX 900 series, or just days/weeks afterwards.
It can't afford to dally, you see, because NVIDIA is just days away from releasing that particular collection of video cards.
More importantly, since TSMC has failed to ramp up its 20nm fabrication technology as intended, NVIDIA has had to redesign its new architecture on the same 28nm tech as the Kepler.
And since TSMC is as much AMD's supplier as it is NVIDIA's, that means that Advanced Micro Devices is in the same boat, so it would have no excuse for failing to match NVIDIA's product launch.
The AMD Radeon R9 390X and its cooler
This video card should come out around the same time as NVIDIA's flagship GeForce GTX 980, which means in a week or so at most. Of course, AMD could withhold it for a while, as we said above.
There is no real information about it though. The only reason its existence has been uncovered is because Asetek has released a photo of the cooler that will be installed on it.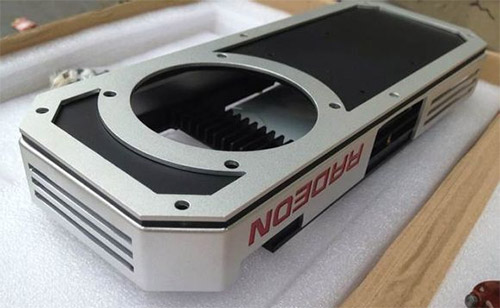 And it probably won't be the reference cooler, given the shape and color (black and white, instead of black and red).
Still, it has been found out that the next-generation Radeon card really is coming, and it will be a sort of "variation" of the Radeon R9 295 X2.
The inverted commas are there because the card is not actually a dual-GPU card, so it's a bit of a stretch to describe it like that. Nevertheless, the PCB will supposedly be similar.
The cooler has cutouts for the PCI Express power connectors, as well as a shroud with a fan intake moved to the regular spot of GPUs.
As for the base plate, it comes into contact with not just the GPU, but also the VRM (voltage regulation module) and the memory chips.
The GPU
It's not really clear which it is. Tonga has already been used for the Radeon R9 285, and it's not the best in the Pirate Islands line, so we'll have to wait and see. The launch date, likewise, is unknown still.