AMD today officially launched the AMD Radeon R9 285 graphics card, serving as the newest desktop GPU in the AMD Radeon R9 series graphics family.
The Radeon R9 285 graphics card brings the feature set of AMD's Radeon R9 290 series graphics, like support for Project FreeSync and AMD TrueAudio technology, to even more gamers. It has been designed to run the most demanding games with ultimate settings at 1080p and beyond.
AMD first unveiled the AMD Radeon R9 285 graphics card during its 30 Years of Graphics & Gaming event on August 23, 2014. It comes packed with the latest Graphics Core Next (GCN) Architecture features like support for the upcoming DirectX 12 and AMD's Mantle API.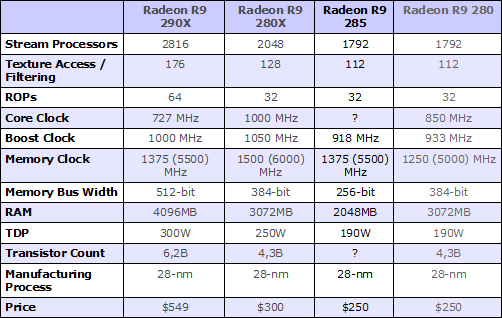 In terms of key specs, the main change from the Radeon R9 280 to the R9 285 is the move from a 384-bit memory interface to a 256-bit one. Aside from the reduction in memory throughput, the R9 285 appears to be very similar to the R9 280 card that it replaces.
The newest addition to the Radeon family features an engine clock speed of 918 MHz, and 2 GB of frame buffer running at 5.5 Gbps. The Radeon R9 285 GPU is capable of delivering up to 3.29 teraFLOPS of computing performance. Custom and overclocked AiB SKUs are available today.