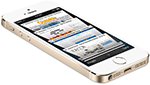 Another new schematics leak from Chinese repair firm GeekBar suggests that the iPhone 6 may come in 16, 64, and 128GB capacities. Modules from suppliers Toshiba and Hynix are listed, notably excluding 32GB. If the schematics are indeed representative of planned iPhone models, it may hint that Apple is doing a significant shakeup of its usual 16/32/64GB tiers.
One possibility is that 16GB will be paired with the 4.7-inch size, while 64 and 128GB will be limited to the 5.5-inch model. A number of different tier arrangements are possible however, and the leak contradicts a June rumor that Apple is going to drop 16GB as an option. Some rivals, such as HTC, are beginning to do away with 16GB given low memory prices, and its diminishing practicality in a world of growing app sizes and media collections.
Apple should announce new iPhones early next month, possibly on September 9th.