A Chinese microblogger, panjiutang, posted on the Chinese-language microblogging platform Weibo pictures of what appears to be a leaked Qualcomm Inc. (QCOM) roadmap. If accurate the roadmap, which runs Q2 2014 through Q2 2015, suggests that the top mobile chipmaker's 64-bit Snapdragon chips are hitting mass production shortly and may be ready for launch in devices sometime around the end of the year.
As of Q1 2014 Qualcomm controlled roughly two-thirds of the cellular baseband processor market and roughly half of the mobile applications processor market as of the end of 2013.
If there's a clear threat to Qualcomm's hegemony it's the ambitious in-house efforts of Apple and Samsung the world's second and first place smartphone sellers, respectively. Apple beat Qualcomm to the 64-bit punch, launching the first mass market mobile SoC (the iPhone 5S's Apple A7 SoC) late last year. In Oct. 2013 Samsung pledged to have 64-bit chips of its own shortly.
Qualcomm's chief market officer and SVP Anand Chandrasekher initially responded by blasting this trend. But the rest of Qualcomm's executive staff quickly decided this was a dangerous mistake and demoted Mr. Chandrasekher, "clarifying" that 64-bit Snapdragon chips were on the roadmap. The switch to 64-bit confers a number of advantages, including faster native processing of high bit-width (64-bit or 128-bit) image data and improved memory access.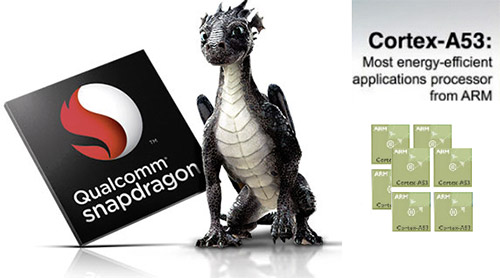 A pair of 32-bit registers and accompanying ALUs can do the same work as a larger 64-bit register, but in many cases operating in native precision improves power efficiency and speed of operations. It also reduces circuit complexity in the processing pipeline as you now are dealing with a single monolithic native precision ALU/register duo, versus a pair of high/low registers and accompanying ALUs.
For these reasons ARM has pushed Qualcomm and other partners to embrace 64-bit, incentivizing it further by applying it to the new ARMv8 and ARMv8-A instruction sets, which pack new functionality and more registers for faster mobile processing.
In Dec. 2013 Qualcomm previewed the upcoming 64-bit Snapdragon 410 chips, and in Feb. 2014 Qualcomm announced the upcoming availability of 64-bit Snapdragon 610 chips, as well. Notably, both upcoming chips used licensed ARM Cortex-A53 cores, for now shelving the proprietary ARM instruction set architecture (ISA) "Krait" cores found in the Snapdragon 200/400/600/800 line.
The leaked roadmap (slide 1 of 2 is above) indicates the timeline for sampling, along with some new technical details of Qualcomm's upcoming lineup, which is largely comprised of 64-bit product.