It seems as though everyone is talking about wearables these days. We've seen what Google has to offer with the Android Wear mobile operating system, and its partners like Samsung, Motorola, and LG have already displayed smartwatches using the platform. Likewise, Microsoft and Apple are reportedly eyeing their own entries into the growing sector.
However, there's one big name in tech that no one has even thought of when it comes to smartwatches: Hewlett-Packard. Most tech enthusiasts wrote HP off after it squandered opportunities with WebOS, eventually selling off the assets to LG.
Now, HP is looking to redeem itself somewhat with a new smartwatch developed in conjunction with designer Michael Bastian and online retailer Gilt. Bastian designed the smartwatch, which is supposed to evoke the interior of a car. It will feature a stainless steel case, circular watch face, and swappable bands that will be available in leather, rubber, and nylon.
HP, on the other hand, is handling all the tech/software related to the smartphone. We don't know exactly what software will be powering the smartwatch (we at least know that it won't be Android Wear), but it will reportedly be compatible with both iOS and Android smartphones.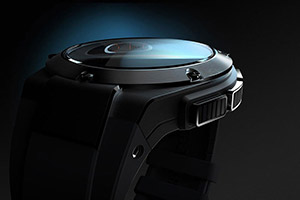 Windows Phone users will just have to wait to see whatever solution Microsoft comes up with when it comes to smartwatches. As for BlackBerry users, you know the drill.
There are no other details known about the device, but it will reportedly launch in the fall.