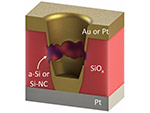 Future smartphones could ship with storage measured in terabytes, according to researchers at Rice University. The team has spent five years working on a method to produce resistive RAM (RRAM) at room temperature and with a low voltage, rather than at the high temperatures or voltages it typically requires, with the technique likely to help current RRAM manufacturing efforts, allowing it to be included in devices in the future.
RRAM is similar to flash memory currently used in USB thumb drives, SSD storage, and in smartphones, in that it can store data without a constant power supply, reports MIT Technology Review. The storage of data on RRAM uses resistance instead of charges in transistors, a system that is more information dense than flash memory. RRAM layers can also be stacked to increase storage further, with some prototypes apparently able to store a terabyte of data on a chip with the same footprint as a postage stamp.
The method involves peppering a layer of silicon dioxide with five-nanometer holes, which is then placed between two electrodes to deposit metal inside each holes after voltage is applied. A second charge breaks the links between the electrodes, causing silicon to form in the gaps, with this silicon then being used to store data by applying a low-voltage pulse.
While the technology is still far away from being used in smartphones, it has already garnered interest by memory producers. Rice University professor James Tour advised he expects a licensing deal with a memory manufacturer will be completed within two weeks.