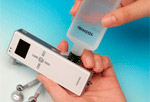 Apple is working with a company called Intelligent Energy in the hopes of integrating fuel cells into its mobile devices, claims UK publication the Daily Mail. The paper cites "senior sources in the US," and says that the technology could come to MacBooks and/or iPads "within a few years." Intelligent Energy is noted to have bought a collection of related patents in cooperation with a major "international electronics company," which one source says is Apple.
The Daily Mail also observes that Intelligent Energy has connections to Apple, since former Apple product specialist Joe O'Sullivan sits on the IE board. The firm in fact has a new office in San Jose just a short distance from Apple's Cupertino headquarters.
IE produces products for industrial purposes as well, which could mean that Apple's interest is only related to powering offices and datacenters. It does however produce cells for consumer electronics, and Apple has filed patents on similar concepts in the past. Switching to fuel cells might allow devices to run for many days or weeks on a single charge, instead of just hours. An iPad currently supports a few days of light use, but less than a day with intense activities such as gaming or video.