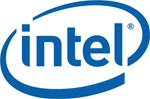 Intel's Broadwell processors may end up shipping later than first thought, according to a rumor. The majority of the 14nm-process chips will allegedly go on the market in 2015 instead of this year, though Intel Chief Executive Brian Krzanich's promise of Broadwell chips shipping in time for the holiday season will apparently be kept, albeit only for lower-powered devices.
A release schedule for Broadwell chips released by VR-Zone suggests that Core M processors, chips meant for low-powered and fanless systems such as tablets or convertible notebooks will start manufacturing within the next two months for an expected launch later this year.
The U series of chip will not start production until much later, with the 2+2 chips thought to ship in January alongside the 2+1 Pentium and Celeron processors, while the U 2+3 is slated to land in February. The U series is meant as a processor for notebooks and ultrabooks and boast a low power consumption, with the chips likely to make an appearance in refreshed MacBooks.
The last category, the H section, are for processors destined in desktops and all-in-one systems, using BGA and LGA platforms, with power savings of up to 30 percent touted by the chip producer. The first shipments are now expected in mid-2015 on the 29th week of the year, a change from the original 26th-week expected shipping period.