Nokia Devices' best selling Windows Phone appears to be ready to get a successor, with rumors surrounding the Lumia "Rock" -- the Lumia 530 -- intensifying.
Executive Summary: Lumia 530 "Rock" (and "Rise"?)
The Lumia 530 is powered by Windows Phone 8.1, which adds Swype-style typing, the Cortana voice assistant, and much more. How do we know the codename? Well it was originally reported by @evleaks, but later corroborated by other independent sources:
Nokia Rock = Lumia 530.
— @evleaks (@evleaks) March 18, 2014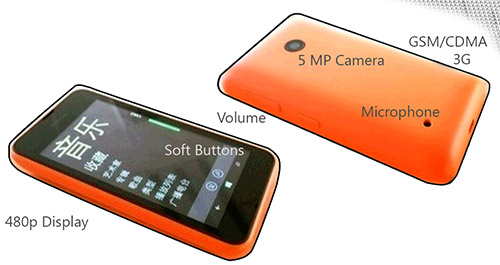 Outlook -- Replacing a Star
The dynamic duo of the Lumia 520 (available today for around $55 USD unlocked) and 521 (available for $70 unlocked on T-Mobile U.S. Inc. (TMUS)) have almost single-handedly made Windows Phone relevant in some developing markets; particularly in regions like China, India, South America, Africa, Indonesia, and the Middle East where cost remains a crucial issue.
The Lumia 520 alone accounts for an estimated 31.6 percent of global Windows Phone sales. The Lumia 521 chips in a respectable 4.8 percent. That means more than 1 in 3 Windows Phones sold is a Lumia 520 or 521. This lines up closely with Windows Phone's biggest markets outside the U.S. -- India, Brazil, China, and Mexico.
Customers in China have already shown a strong love for Microsoft design sensibilities, with the Nokia X (Android reskinned to look like a Windows Phone) racking up over 10 million preorders in March 2014.
Windows Phone 8.1 is expected to strengthen Microsoft's bid to beat Android on the budget end in these developing markets. With Microsoft dropping licensing fees, the OS is already seeing support from domestic budget smartphone makers who previously used Android almost exclusively. But Microsoft is also determined to lead by example, pushing attractive low-cost handsets to hedge its bets.
Device Finally Pictured?
The latest leak of images of what is believed to be the Lumia 530 was posted on the Chinese-language microblogging platform Weibo by a user named "iokeyboy". The user did not say explicitly that the device was the Lumia 530, but rather stated it "not [the Lumia] 620".
The device looks relatively thick and chunky -- which is to be expected from a device at this kind of price point. It features Nokia Devices' traditional polycarbonate body plastic in a bright pumpkin-ish orange.
The back appears to have a camera (no flash) and microphone hole, with a usual connectivity slot (likely microUSB). The side has volume rocker buttons and the power/wakeup button. There appears to be no hardware camera button. The front face features virtual buttons (like the Lumia 630/635), a key addition to Windows Phone 8.1. Bad news for you selfie lovers -- there's no front facing camera.
"The FCC Won't Let Me Be, Or Let Me Be Me, So Let Me See"
Also leaking out is a new filing with the U.S. Federal Communications Commission (FCC) by Microsoft. The filing describes a device with the model number "RM-1018" -- believed to be the single-SIM variant of the Lumia 530 -- was first dug up by Phone Arena and is available in the FCC's database.
Also note on the sticker that the devices tested were manufactured in China, which lends some small credence to the leaked photos recently posted to Weibo.
A letter dated July 3 from Microsoft Mobile Product Certification Officer Janne Ilkka requests that the majority of photos related to the FCC filing be kept confidential for 45 days. That would suggest a Microsoft Mobile announcement on Aug. 15 (Friday) or Aug. 18 (Monday), although the phone could launch even earlier as Nokia Devices often announces products in July.