Many have second guessed Microsoft decision to continue to support the Windows Phone-esque reskin of Google Android, Nokia X. Indeed Microsoft's logic seems somewhat peculiar given that you can get a pure Windows Phone device (e.g. the Lumia 520/521) for under $100 USD -- cheaper than most Nokia X handsets.
However, the Nokia X's pre-orders of 10 million in March (including 4 million in China) hints that in these markets the ability to load pirated apps via third-party app distributors and sideloading (a key "feature" of Android) can be worth at least $50 USD in effective device value. If the flawed first generation Nokia X can sell like that, Microsoft is ready for a device boom with the more refined second generation Nokia X platform.
Amidst that backdrop top smartphone leaker @evleaks has posted some highly interesting news:
Big news: Android-powered Lumia incoming, from Nokia by Microsoft - http://t.co/KKLstDDVVO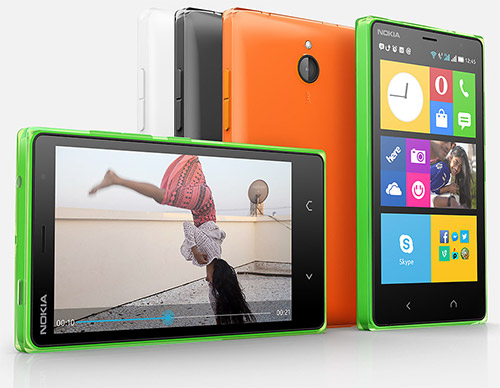 This is perhaps the culmination of rumors that Microsoft was considering adding the ability to use Android apps on Windows Phone (similar to BlackBerry compatibility layer).
Google is cracking down on reskinning. With Android 4.4 KitKat, it moved many of its key APIs (which are required by many apps) into the proprietary part of Android, which is not available to (unlicensed) reskinners. Since then it has flat-out banned reskinning of some variants of the "open source" Android code. However, Google can't really stop rivals from achieving app compatibility with Android; after all, BlackBerry is already doing this.
Microsoft will likely be forced to continue to maintain an older version of Android if it wants to continue its strategy. But what some don't seem to understand is that what Microsoft is doing is actually more than a little bit brilliant.
Neowin writes:
[F]or Microsoft to start offering Android-powered Lumias seems like a strange decision, if only for the purpose of undercutting its own OS.
But that comment is written from the mindset of an American consumer. Nokia X -- perhaps soon to be rebranded as Lumia handsets -- indeed makes no sense from the perspective of the U.S. and European markets. But the first-generation Nokia X didn't even ship to these markets.
Where Nokia X -- or Lumia Android -- makes perfect sense is in markets like China and India where any device that does not openly embrace piracy is condemned to a small niche market share (e.g. Apple "small" market share in China).
Microsoft is a mass seller -- so it needs a device that can compete with pure Android competitors in these markets; it can't operate as a high-end boutique brand in these markets like Apple. At the same time it would be unacceptable to weaken Windows Phone's piracy protections, as that would undermine Microsoft's growing success in Europe and the U.S. (where the ability to pirate is less of a "selling point").
With Nokia X Microsoft can have its cake (unit sales) and eat it to (by guiding the small minority of high end customers in these regions to true Windows Phone Lumias).
So for those who feel Nokia X doesn't make sense, remember -- it isn't meant to make sense to you. Microsoft isn't selling these devices to you. Nokia X -- and its potential Lumia successor -- is Microsoft's answer for gaining market share and introducing Windows Phone in developing markets where rampant piracy has left the laissez-faire Android without a true competitor. In that context Microsoft's Android play might actually make sense.