Conventional displays are rectangular because they need the bezel to be of a certain, minimum width, otherwise there is no way to include the drive circuit, also known as gate driver, in the product. Sharp has overcome this limitation, however.
According to the company's press release, it has a new technology to grace us with, called Free-Form Display. It's exactly what it says on the tin, no more, no less.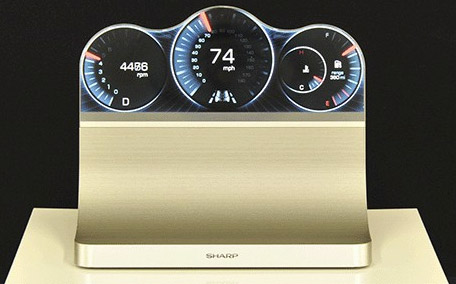 You see, Sharp figured out how to disperse the gate driver's function throughout the pixels on the display area itself. So, instead of cramming all the electronic parts in the edge of the screen, there's barely anything left for the bezel to hide.

Consequently, the bezel can be very, very thin, allowing LCD designers and fabricators to match their screens to any shape they need the display area to be.

There are countless possible applications for the Free-Form display, so we won't even hope to be able to list them all here. There are some fields where the new screens will be particularly helpful though.

For example, in-vehicle infotainment and information display systems. Sharp actually talked about them specifically in its press release. It said that the new display tech can be used to combine the speedometer and other monitors into a single instrument panel on the dashboard.

Wearable devices were another sector that Sharp talked about. We dare say it might manage to throw a wrench in the plans of Motorola, whose Moto 360 smartwatch was, until now, the only one of its kind. As in, the only one with a display that wasn't rectangular, but round.

Although that comparison might not have its place, since Motorola used OLED technology, while Sharp adapted the much more widespread and familiar LCD. IGZO technology and proprietary circuit design methods were employed.

Indium gallium zinc oxide (IGZO) is a semiconducting material that enables superior speed, resolution and size of flat-panel displays compared to regular LCDs based on amorphous silicon.

Unfortunately, it is impossible to tell when Sharp's latest breakthrough will start to push aside existing display creation techniques. The corporation stated that mass production of Free-Form Display technology would begin at the "earliest possible date," but whether that means weeks or months from now is unclear.

There is also no indication of when, if ever, Sharp will create Free-Form Displays based on technologies other than LCD (liquid crystal display).