One of the handsets that Samsung Electronics has been rumored to bring to the market before the end of this year is the Galaxy F, which will reportedly hit shelves as a larger, premium version of Galaxy S5.
The handset has been spotted online quite a few times before, and has emerged in a newly leaked photo, which shows it in a gold color version.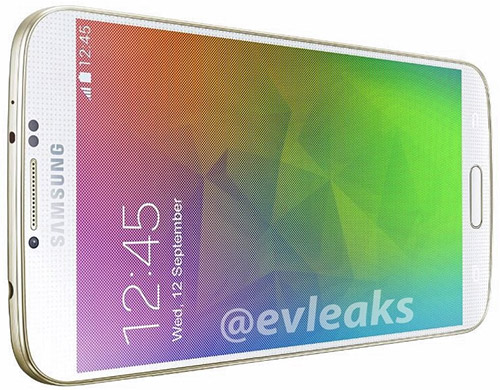 This is not the first time that the gold Galaxy F makes an appearance, though the new image shows it from a different angle. However, the same as the previous photo, the new one comes from @evleaks too.
Interestingly enough, the leaker notes that this Galaxy F model actually sports a glowing gold color, which is a bit different than the previously spotted variant.
Galaxy F, which was initially believed to be the Galaxy S5 Prime, is now clearly said to be a completely different device. The latter, however, was made official earlier this week as the Galaxy S5 LTE-A for South Korea.
The newly leaked press photo with the smartphone was not accompanied by specific info on its hardware specifications, though some details on the matter did emerge before.
Thus, the mobile phone is currently expected to hit the market with a 5.3-inch touchscreen display capable of delivering a Quad HD resolution, which will be one of the main differentiators between it and Galaxy S5 LTE-A.
In addition to a larger display, the phone is said to sport a metallic body with a brushed finish on the back, something that previously spotted images with it did unveil.
The same as the Galaxy S5 LTE-A, however, the upcoming handset should be powered by a quad-core Qualcomm Snapdragon 805 processor, which might be accompanied by 3GB of RAM, thus ensuring great performance capabilities.
The rest of the phone's hardware specifications should remain about the same as those included in the newly released smartphone, such as the 16-megapixel rear camera, the entire range of connectivity capabilities, and the Android 4.4 KitKat platform loaded on top.
All in all, the Galaxy F appears to be shaping up as a great handset, though it remains to be seen whether the leaked info on it will indeed pan out in the end or not.
No info on the phone's arrival has been provided as of now, though we might see it go official anywhere between July and September, rumor has it (that September 12 date seen on its lock screen, however, might not pan out, given that it will be a Friday this year, and not Wednesday), so stay tuned for more on it.