Last week there was a lot of buzz around Samsung's upcoming foldable tablet, which the rumor mill claims will be launched in early 2015.
The slate will feature a futuristic design, and for all we know, the product could mark the beginning of another hybrid era, the smartphone/tablet combo.
Anyway, as we're waiting on that, Jermaine Smit has taken up the contemplation of this possible Sammy product.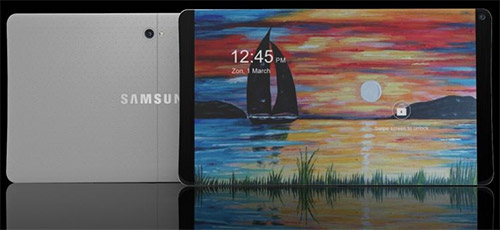 Flexible screens aren't exactly an absolute novelty in the world of tech, as we have seen products like LG G Flex and Galaxy Round grace the market with their presence, but so far this treatment hasn't been extended onto tablets much.
The concept Smit has come up with details a device called the Samsung Tab Flex and taking a look at the renders we have to say the slate looks quite beautiful.
Its sides are made of metal, while the front and back are plastic. Since AMOLED tablet displays aren't a problem for Samsung anymore, the Tab Flex takes advantage of a 12.2-inch Super AMOLED screen with 2560 x 1600 pixel resolution.
From the images, we can notice the tablet looks almost bezel-less on the sides, which aesthetically looks very nice.
We've got 4 speakers that have been thrown into the equation, so sound coming from the tablet should be really awesome.
The device is powered by a 1.9GHz and 1.5GHZ quad-core chip, giving us a hefty octa-core CPU, which is fitted with 4GB of RAM and either 32GB or 64GB of internal storage.
The tablet runs Android 4.4.3 out of the box and bundles special impact protection.
Now for the flexible part of the story, the body of the device is subtly curved inwardly. The Tab Flex seems to be a device designed to be used in landscape mode and as you can see in the video below, it can be opened like a book.
We're not shown further functionalities, but we could argue the Tab Flex could be used as a smartphone or sorts and even in laptop mode, if a virtual keyboard could be implemented in the lower part of the device.
Could the Tab Flex be akin to what Samsung is prepping for us in terms of foldable tablets?
According to sources familiar with the matter, the Korean tech giant already has some prototypes circulating into the wild, so before the official unveiling, the device will certainly be spotted in the wild a few times.