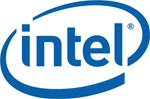 Now that Intel is almost ready to begin shipping its high-end Haswell CPUs known as Devil's Canyon, enough information has made it to the Internet for a new, more up-to-date roadmap to be drawn up regarding Chipzila's future processors.
The Haswell refresh Devil's Canyon CPUs will start being delivered to the homes of customers on June 25, even though, technically, the Santa Clara company has already released the chips. Or two of them anyway.
Then again, it's not like this would be the first time a "paper launch" happened, when products get formally introduced well in advance of their actual availability date. It's actually fairly frequent.
It's been confirmed that 8-Series motherboards support the newcomers, laying to rest previous concerns that the CPUs would demand 9-Series mobos despite having the same socket.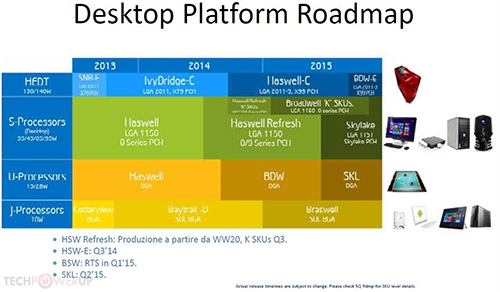 It's odd, though. 9-Series chipsets were made for Broadwell, but Intel had to delay that range of chips to the first quarter of 2015. Yes, it seems it really happened. First, it was the first half of 2014, then, late 2014, and now, 2015.
It kind of implies that the time gap between the Broadwell release and the arrival of Skylake will be rather short. Perhaps harmfully so, especially compared to the time gap between Haswell and Braodwell (which demanded a refresh of the line with 100 MHz extra speed just to hold the fort as it were).
At least there's some good news: when Broadwell chips come out, probably in January at the Consumer Electronics Show (CES 2015), they will be supported by existing mainboards, maybe even 8-Series ones.
On that note, Skylake chips could make it to the market in June 2015, during Computex. They will be joined by unlocked "K" Broadwell chips, as Intel is thinking of reserving unpacked Skylake enthusiast processors for 2016.
It will be a fine example of bamboozlement, since Broadwell, a chip line based on LGA 1150 socket, will have to coexist with a processor line designed with the LGA 1151 socket, while actually being faster than the more advanced architecture, at least on the enthusiast front.
Similar things will happen on the high-end desktop market and the ultra-low power desktop segments, but we'll be checking those out separately, so stay tuned. On that note, Intel has also allowed information to reach the net about its plans for the solid-state drive segment. We'll make sure to look into that particular kettle of fish as well, shortly.