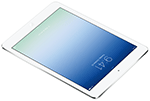 Displays for a second-generation iPad Air should enter production later this month, followed shortly by other components like camera modules, claims Korean site ETNews. Apple is expected to stick to the same 9.7-inch 2048x1536 panels it used with the Air. LG Display will reportedly lead production, followed by Sharp and Samsung in July.
In terms of other specifications, ETNews suggests that the new Air's A8 processor will have 50 percent better performance than the A7. The tablet should also upgrade its rear camera from a 5-megapixel model to an 8-megapixel one, putting it on par with the iPhone 5s, but presumably behind the iPhone 6. Apple has traditionally reserved its best cameras for the latest iPhones.
Both the second-gen Air and the iPhone 6 should be revealed this fall. A third-gen iPad mini will likely be announced in the same timeframe.