Korean news agency ETNews is reporting that Samsung and LG are looking to start mass producing Quantum Dot displays. Quantum Dots promise a wider color gamut (by up to 50%) than rival OLED displays, combined with increased brightness and lower power consumption.
Quantum Dot displays are like a hybrid between LCD and OLED displays. They don't use regular LEDs for backlighting, but instead uses blue LEDs which excite two kinds of quantum dots that produce red and green light respectively. Each pixel gets its own LED like in OLED, leading to the improved power efficiency.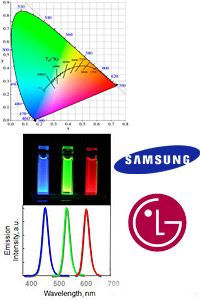 This tech has been used for a while in Sony's Triluminos displays and LG has been collaborating with QD Vision, the MIT offshoot behind the quantum dot technology, since 2010 while Samsung has been dabbling with quantum dots since 2011.