Samsung is exploring the use of 4K-resolution displays in mobile devices, according to a report. A tablet using the high-resolution screen was spotted and photographed during an LTE broadcasting demonstration at the French Open tennis tournament, and while it is unlikely for the device to head to market anytime soon, it suggests the manufacturer is at least testing the waters for a possible future release.
Spotted by TechRadar, the 12-inch prototype shares the similar Samsung design language used by the company's other tablets, with the photographs making it look extremely similar to the similarly-sized, 2560x1600 Galaxy Note Pro. While specifications were not available at the time, the report was told it runs on a Qualcomm Snapdragon 801 processor, and would benefit from the 4K-friendly Snapdragon 805 if it ever got released.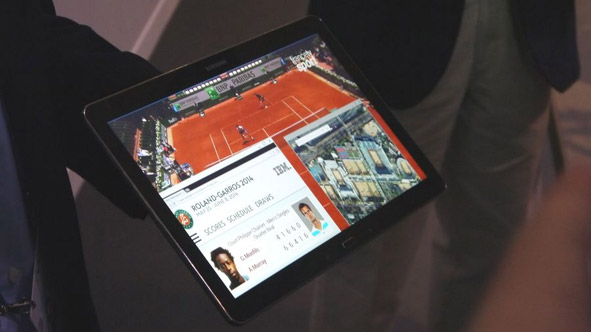 Though the company has yet to offer a tablet that uses such a high resolution, it is possible Samsung will show off something similar at its "Tab Into Color" Galaxy Premiere event on June 12th in New York.