At the second day of Taipei's Computex, AMD introduced its new 2014 Performance Mobile APUs designed for ultrathin and high-performance mobile PCs. The new "Kaveri" release uses the features of the AMD A-Series APU to power notebooks for both personal and professional use. The new APUs mark the debut of Heterogeneous System Architecture (HSA) features and Graphics Core Next (GCN) Architecture for mobile devices. Also released is the AMD Pro line, designed with business-class performance in mind.
The new AMD Kaveri release features up to 12 compute cores, with four CPU and eight GPUs to deliver processing power. The new Heterogeneous System Architecture (HSA) allows the CPU and GPU to work together by quickly dividing and directing the right tasks toward the appropriate cores for new levels of performance and efficiency. The combined chipset boasts Support for UltraHD (4K) resolutions and new video post-processing enhancements.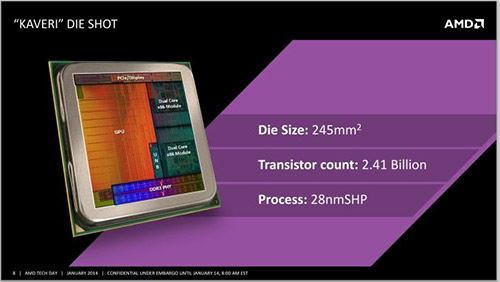 The company reports that the cores are based on AMD's "Steamroller" x86 chipset, and will perform up to 818 Gflops. Direct 11.2 is supported across the line, as well as PCI Express Generation 3, and DDR3-2133 memory.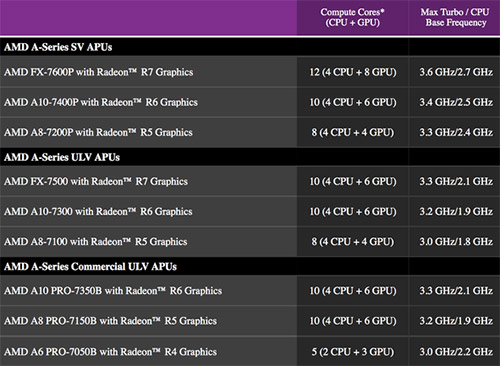 AMD claims that the A10-7300 is comparable to Intel's 1.6Ghz i5-4200U processor in PCMark benchmarks. The 3DMark on the A10-7300 is said to be 50 percent better. The Kaveri FX-7500 chip is up against the Intel 1.8Ghz i7-4500U, and is said to be up to 50 percent faster in 3DMark.
Pricing is not yet available on the 12 models of Kaveri processors that will ship soon. Models range from the 3Ghz A6 pro with two CPU and three GPU to the four CPU and eight GPU 3.6Ghz AMD FX 7600P with Radeon R7 graphics.