Samsung will be reportedly collaborating with Oculus VR on its own virtual reality headset. The Facebook-owned start-up is said to be aiding Samsung in creating software for the device, as well as providing early access to its mobile software development kit, in exchange to access for next-generation OLED panels it requires for its own device, the Oculus Rift.
Engadget has also learned smartphones will be more involved in the device's design than previously thought. The earlier rumor suggested a current-generation flagship or a next-generation smartphone or tablet would be used to provide the processing for the headset. Now, it is believed a smartphone will be used for the display itself, taking the place of the larger tablet-sized panel Oculus currently uses. A wired connection, possibly microUSB, will provide the smartphone access to the headset's built-in sensors, which the phone could combine with its existing sensor collection and in turn provide visual feedback.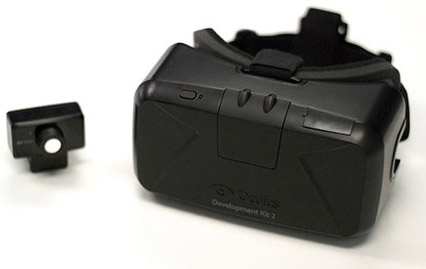 The combined unit will apparently navigate using a paired game controller, voice and motion control, or through some basic buttons on the headset component. The rear camera of the smartphone could theoretically be used to provide an external view, allowing the wearer to see any physical obstacles. While not likely to match the final Oculus headset in terms of picture quality and responsiveness, it is thought the Samsung headset's potential limitations could be aimed towards media viewing, rather than gaming.
While unconfirmed by either company, a collaboration that results in a smartphone used for VR isn't that far fetched. Slashgear gives an example of the Durovis Dive, a headset that combines a smartphone with some lenses in what at first glance looks like an early Oculus Rift model.