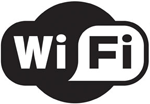 Global technology company Huawei today announced that it has successfully achieved the industry's first 10Gbps Wi-Fi service in laboratory trials at Huawei's campus in Shenzhen. The new protocol, likely to be adopted as the 802.11ax standard, achieved a transmission data rate of 10.53Gbps on 5GHz frequency bands in a controlled environment..
The technology, utilizing modifications of existing MIMO, intelligent spectrum allocation, and interference coordination technologies will be oriented towards densely populated environments requiring high density deployment such as enterprise offices, airports, stadiums, shopping malls and coffee shops.
Huawei believes that ultrafast Wi-Fi could become commercially available from 2018 pending the agreement of global standards requirements and sufficient chipset availability. The company also notes that Huawei's Dr. Osama Aboul Magd was elected as chairman of the group responsible for development of the protocil.