Google previous efforts in the self-driving car realm have involved retrofitting existing manufactures' vehicles. For example, Google currently maintains a self-driving fleet that includes vehicles like the Lexus RX 450h and the Toyota Prius.
However, Google's latest self-driving car comes from its own skunkworks group: Google X. Google X, which previously developed smart contact lenses that monitor glucose levels for diabetics, is headed by Google co-founder Sergey Brin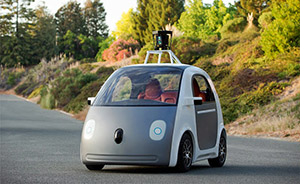 The early electric vehicle (EV) prototypes have a top speed of 25 mph, don't have a steering wheel, and reminds us of a full-size "Cozy Coupe." The interior basically consists of two seats, two seat belts, a display screen that shows the preprogrammed destination, and not much else. But of course, this is just the early prototype stage to test the viability of such a vehicle; so future variants will definitely spruce things up a bit.
Google's hope for the future is to take humans completely out of the equation when it comes to traffic accidents. According to Google, 1.2 million people die worldwide from traffic accidents involving motor vehicles. Of those, 90 percent are caused by human error.