Back in March a report came in suggesting the heavily rumored Nexus 8 tablet might arrive with an Intel Moorefield chip and will not be powered by a Qualcomm Snapdragon one.
As the Google I/O event is drawing nearer and nearer, reports prophesizing the arrival of the Nexus 8 among us have intensified. The Moorefield-enabled Nexus 8 is only a theory at this point, but if it turns out to be true, what will it mean for consumers?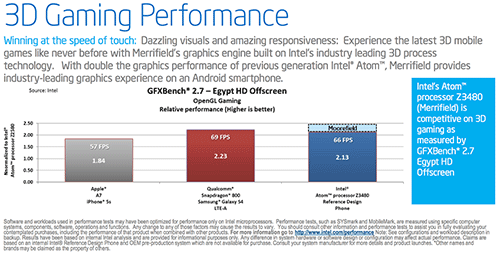 The 64-bit Moorefield chip is based on Intel's 22nm 3D transistor manufacturing tech that might be clocked as high as 2.3GHz for all four cores. Furthermore, the architecture embeds PowerVR G6430 GPU and Intel's own LTE solution that delivers advanced LTE connectivity.
So, a Nexus 8 powered by the Moorefield platform sounds pretty good. While Moorefield's benefits aren't exactly crystal clear, it has been determined that the platform is more powerful than Intel's Merrifield SoC.
But how will the new Intel chip perform compared to other processors out there? We're going to look at gaming prowess, because lots of users tend to use their slate for casual gaming activities.
AnandTech posted a graphic showcasing the performance of the Apple A7 chip (iPhone 5S), the Qualcomm 800 chip (Samsung Galaxy S4 LTE-A) and the Intel Atom (Merrifield) Z3480, 3D gaming-wise.
Judging by the results, Merrifield (2.13) comes out somewhere in the middle, being a little bit stronger than the A7 (1.87) and a little weaker than the Snapdragon 800 chip (2.23).
The extra "Moorefield" segment you can notice on top represents the alleged results in case of GPU performance increase. So, if the Nexus 8 indeed arrives with this particular Intel architecture, we're going to have a pretty powerful gaming device on our hands. Will this boost the appeal of the new Nexus slate?
In related news, the Nexus 8 tablet that's supposedly made by HTC has been spotted in the Chromium source code, alongside a reference to the upcoming Nexus 6.
The code refers to the upcoming tablet as the Nexus 8, so we can be fairly sure this is the final name of the device and not the Nexus 9 as it has been suggested in other reports.
Last week, the folks over xda-developers have been doing some digging around and stumbled upon a piece of Android 4.4.3 code that said "project device/htc/flounder."
This new finding can be taken as new proof that the Nexus 8 will be made by HTC. The tablet is expected to arrive bundling premium features and arrive with a relatively high price-tag.
The tablet will probably see the light of day this summer, alongside the new Android 4.5 OS version. There's also a real possibility the Nexus 8 will run this particular Android version.