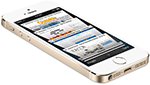 9to5 Mac usually has a pretty reliable track record when it comes to Apple rumors, and the latest report from the site claims that the upcoming flagship iPhone 6 will get a significant boost in display resolution. Apple will reportedly increase the device's screen resolution to 1704x960, stopping short of Full HD (1920x1080) resolutions supported by its current competition and the QHD (2560x1440) resolution touted by Toshiba Display.
According to 9to5 Mac, the iPhone 5/iPhone 5c/iPhone 5s have a base resolution of 568x320, however, there are twice as many pixels on the horizontal and vertical axis giving a 2x "Retina" display of 1136x640. The iPhone 6, on the other hand, is said to feature a 3x Retina display, tripling the 568x320 base resolution. That's how the reported 1704x960 display is achieved. With a display measuring 4.7" diagonally, the iPhone 6 would ring in at 416 pixels per inch (PPI).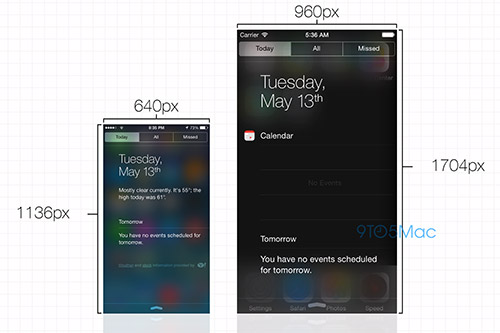 This revelation lines up with the all of the previous leaks that suggest that the iPhone 6 will retain its 16:9 display ratio; and it would also make backwards compatibility with existing applications an easier affair.
As for what Apple plans to do with the increased screen resolution, 9to5 Mac's source suggest:
Core user interface elements, from iOS functions like the Home screen, Notification Center, and Settings panels, will simply appear like larger versions of those functions on the current iPhone display. However, sources also say it is likely that developers and Apple itself will be able to optimize some applications to better utilize the larger screen area.
Apple's iPhone 6 will need some serious horsepower to fuel the 1704x960 display, so we expect to see the new A8 processor paired with at least 2GB of RAM (all of Apple's current flagship iOS devices ship with only 1GB of RAM). And if history serves as any indication, we should expect to see Imagination Technologies' PowerVR 6 Series XT chips handling graphics duties or something even more powerful.