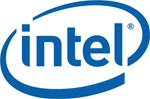 Today Intel is officially launching two mainstream 9-series chipsets, with Z97 and H97 motherboards based on the new silicon also go on sale today, supporting the LGA1150 socket.
Compared to the existing 8-series, the new 9-series chipsets introduce more storage options, including SATA Express and M.2. The Z97 is the overclocking platform aimed at multiple GPUs whereas H97 is a cheaper option with Intel's Small Business Advantage add-on with certain firmware versions.
Both new chipsets are intended for high-end desktops, the main difference bewtween the new 9-series chipsets is that Z97 supports processor overclocking when paired with an unlocked Intel CPU, while H97 does not. Both chipsets will support current LGA1150 processors (Haswell) and future ones (Broadwell).
Compared to the previous generation Z87, the Z97 has support for the M.2 SSD form factor, additional silicon resource on the chipset for SATA Express, and support for Devil's Canyon CPUs.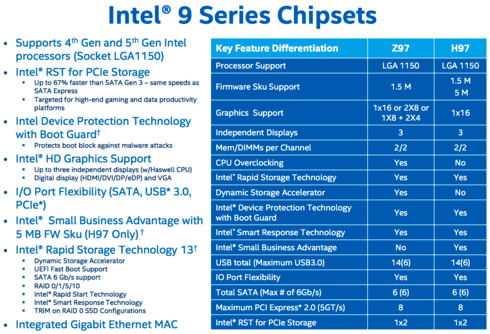 The 9-series chipsets offer a total of 14 USB ports (up to six of those can be USB 3.0), up to six SATA III ports, an integrated gigabit Ethernet controller, and a total of eight PCI Express 2.0 lanes for connectivity to other peripherals like Wi-Fi adapters and SSDs.
With 9-series, Intel is enabling Rapid Storage Technology 13, allowing UEFI support, RAID 0/1/5/10 on chipset ports and TRIM in RAID 0 SSD configurations. With M.2 and SATA Express, the RST will solely be for a PCIe x2 slot).
With RST13 / 9-series, Intel is supporting the Rapid Start Technology with 16 GB of storage. This would allow systems to enter a sleep state, write the contents of DRAM to the SSD cache, and then resume to active use.
Formerly known as next-generation form factor (NGFF), M.2 is the replacement for the mSATA interface found on some motherboards.
Intel's M.2 implementation on Z97 runs off PCI Express and uses two of the chipset's PCIe 2.0 lanes for storage duties, meaning a potential 1GB/s bandwidth on tap. Real-world transfer speeds are likely to be no more than 850MB/s - higher than the 600MB/s available to SATA III drives.
A handful of PC OEMs are already shipping products that use PCI Express-connected storage rather than mSATA for their SSDsmore full-size motherboards alongside the usual SATA ports.
Next, Intel's Smart Response Technology (SRT) feature has received an upgrade. SRT allows you to use a solid-state cache that's 16GB or larger in size alongside a traditional mechanical hard drive to speed up launch times for your most frequently-used applications while providing a cheaper pool of storage than a regular solid-state drive. Previously, the feature required separate solid-state and mechanical hard drives connected to separate connectors. Now, SRT supports hybrid hard drives with integrated flash storage, obviating the need for different drives. PCs can also use a single SSD cache to support both SRT and the related Rapid Start Technology.
Z97 also offers additional security by way of Intel Device Protection with Boot Guard. Device Protection Technology, among a few other things, prevents "unauthroized boot loaders" from working on Intel-powered Android tablets. The 9-series chipsets introduce this feature to Core-powered systems with the refreshed Haswell CPUs.
This security technology works through a combination of software and Haswell-architecture hardware to decrease the chances of malware and rootkits being installed on the machine.
All the major motherboard manufacturers will have 9-series based products up for purchase today, ranging from $120 to $400.