IBM has shown what it feels is the replacement for NAND flash found in this generation of SSDs. In conjunction with the University of Patras in Greece, IBM has unveiled the Theseus Project -- the first attempt to combine the new phase change memory technology, NAND, and DRAM on a single controller. If successful, the new technology could be up to 275 times faster than current PCI-e based SSDs.
Phase-change memory is a type of non-volatile random-access memory that exploits the unique resistance of chalcogenide glass in a phase change between crystallane and amorphous states. Individual cells are expected to be able to be reprogrammed at least one million times, with more research needed to see if the number of cell reprograms may be even longer. PCM also has the ability to achieve a number of distinct intermediary states, thereby having the ability to hold multiple bits in a single cell.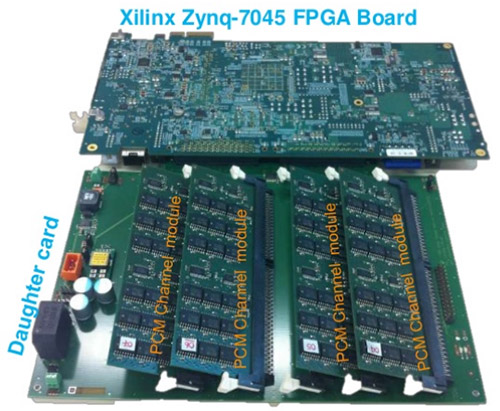 The combined solution, as proposed by IBM has significantly faster write performance than current NAND solutions. Read time is expected to be between 100 and 300 nanoseconds, with a write time of between 10 and 150 microseconds. Testing performed has the test bed responding to requests in under 500 microseconds. The slowest response at 2,000 microseconds still eclipses 120,000 microseconds, as delivered by a TLC solution similar to that of the Samsung 840 evo SSD.
IBM's researcher Ioannis Kolsidas says that "the technologies are complementary, which is why the Theseus project is so important. We took two very different memory technologies and made them work on an existing PCI-e bus, which can be found on any PC or laptop today, taking it a step closer from demo to deployment."
The demonstration model shown at the 2014 Non-Volatile Memories Workshop in San Francisco, California and benchmarked during the demo is two years old, which makes the performance that much more remarkable. A new version 2.0 is in progress. IBM expects PCM to enter the market in 2016.