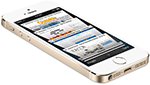 Just last week we saw photos of the alleged iPhone 6 dummy unit compared against the Samsung Galaxy S5. This gave us an idea of how big the phone is, and how thick it is, assuming of course that what we saw was the real deal. That being said, Italian website Macitynet.it has published more photos, except that this time around they are comparing the iPhone 6's dummy unit against the iPhone 5s.
The iPhone 5s is Apple's latest smartphone and sports a 4-inch display, which means that those trading up to the iPhone 6 should expect an upgrade in screen size, hopefully. Once again, it seems that the dummy unit is in like with what we've been hearing about the iPhone 6 lately, such as its curved body and repositioned buttons.
However, in this case, the dummy unit appears to be based upon the rumored 4.7-inch model, as opposed to the 5.5-inch model since it does not appear to be that much bigger than the iPhone 5s (at least not 1.5-inches bigger). The phone also appears to be thinner, but it is also possible that its curved body might give us that impression.
Then again, with Apple's obsessiveness with thin products, we expect the iPhone 6 to be thinner than its predecessor, even if it is by a little bit. In any case, if you have a minute or so to spare, you can check out the comparison in the video above, or check out the gallery below for additional photos.