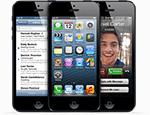 Apple has initiated a repair program for a subset of its iPhone 5 devices that may have issues with the sleep/wake button on the top of the unit. The company says "a small percentage" of the units, which were manufactured between the debut of the smartphone on September 21, 2012 and March of 2013, are prone to have the issue (not caused by abuse or other factors). If a buyer's iPhone 5 has a qualifying serial number, Apple will fix the unit and supply a loaner iPhone while it is being repaired.
Users must enter the serial number of the iPhone 5 in question to see if it qualifies for the program, which remains in effect until two years after the unit was purchased (and thus will end in March of next year). The US and Canadian stores are now accepting qualifying iPhones for repair, and the program will expand to international stores on May 2. Users who qualify can bring in their iPhones for repair, or mail the unit in if they don't live close to an Apple Retail Store.
The repair, according to the company, takes approximately four to six days from the time the iPhone is received by the repair center. Users who need a "loaner" while their iPhone is being fixed will receive a 16GB iPhone 5 to use until repairs are complete.
Apple notes that users should back up their data, turn off Find My iPhone, recover any cover or casings and erase their content and settings off the iPhone before sending it in, and that is other repairs are required to fix the sleep/wake issue (such as a cracked screen), that there may be a charge for that repair depending on warranty eligibility.
For mail-in repairs, users can request a postage-paid box be sent to them. All iPhones sent in will be re-examined to ensure that they qualify for the free sleep/wake repair. Apple notes in its release that if the iPhone 5 is running iOS 6 or earlier when it is sent in, it will be upgraded to iOS 7 as part of the repair process. Apple may opt to restrict the repair to phones purchased in the same country in some cases, and the iPhone 5 must still be in working order to qualify for the program.
Users who may have paid for a replacement iPhone as a way of fixing the sleep/wake button issue are asked to contact Apple regarding a refund.