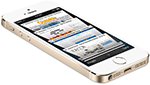 Apple's oft-rumored 5.5-inch version of the iPhone 6 has been pushed into 2015, claims Taiwanese publication the Industrial and Commercial Times. Apple has reportedly had trouble finding a battery that's both powerful and less than 2mm thick, needed to fit the 5.5-inch model's "very thin" profile. Suppliers have allegedly been referring to the device as the "iPhone Air," though that may not be the final product name.
It would however be consistent with the naming of the iPad Air and MacBook Air, both of which are distinguished by unusually thin bodies relative to their other dimensions. At 5.5 inches an iPhone Air would also be venturing into "phablet" territory, perhaps warranting a special designation.
The Times was one of the first publications to suggest the 5.5-inch iPhone would ship after its 4.7-inch cousin. It was expected that it would ship in November, though, and only because of problems with screen size, not because of the battery.