AMD today has officially launched the AMD Radeon R9 295X2, a dual-GPU. hybrid-cooled graphics card designed for ultra-enthusiasts.
This "beast" has two fully enabled Hawaii XT GPUs and an exotic cooling in the form of a Hybrid cooler, meaning a combination of air and liquid cooling. The closed-loop, pre-assembled liquid cooling system was developed jointly by AMD and with Asetek.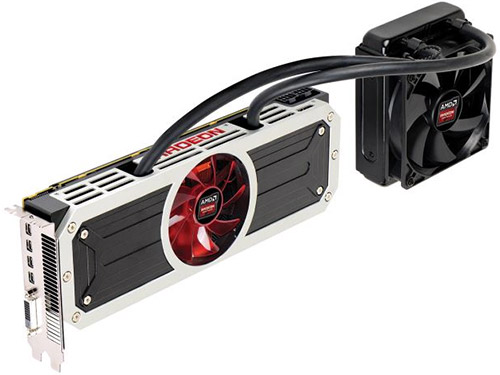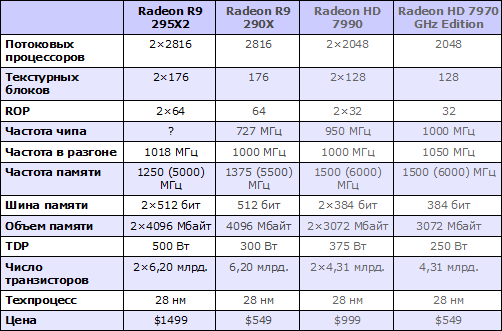 The AMD Radeon R9 295X2 -- codenamed Vesuvius -- is considered to be AMD's response to the monstrous GeForce GTX Titan Z, which was announced a few weeks ago and priced at an amazing $2,999.
The Radeon R9 295X2 actuall packs two identical R9 290X's in a single PCB, but AMD has further peaked the GPU's clck to 1,015MHz vs. 1,000MHz, meaning that it should benchmark slightly faster than two 290Xs in CrossFire.
This card guzzles a potential 500W when running at full chat. Two 8-pin connectors can pull 300W from the PSU, with another 75W coming from the slot. AMD says your PSU should be able to supply a combined 50A over the two connectors, without this being shared between other components. So the Radeon team is touting 1,000W PSUs as advisable for the card.
AMD hasn't pushed the memory clock further, and the card comes with a 2x 512-bit pathway, 2x 4GB framebuffer, 5,000MHz frequency.
The $1,499 Radeon R9 295X2 has been designed for 4K gaming at ultra-quality settings. And although you'll be certainly satisfied with its perfrormance, tit comes with at an inevitable cost. You could possibly achieve almost the same level of performance by housing two R9 290X or a couple of GTX 780 Ti cards into a system, saving money a high-quality, high-wattage PSU and a 4K monitor.
In any case, it is the world's fastest graphics card that will be available through AMD's partners from April 21.