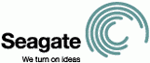 Storage company Seagate Technology today announced it is now shipping a 6TB hard disk drive -- the Seagate Enterprise Capacity 3.5 HDD v4. The drive comes in two versions, 12Gb/s SAS and 6Gb/s SATA, with a variety of encryption and secure data destruction options.
The drive employs multi-drive rotational vibration tolerance for consistent enterprise-class performance and accurate data storage in high density environments. Features of the drive include 7200rpm speed, ramp load technology, a humidity sensor, and T10 and T13-compliant power management standards. Users can select from government-grade Secure Encryption Device (SED) FIPS 140-2 option in most countries that the drive is available, or SED models with Seagate Instant Secure Erase technology.
The drive is shipping now to select Cloud partners and resellers globally. It will also be integrated into Seagate business and branded storage products starting this spring, including the new LaCie line. Pricing for the drive itself is not yet available.