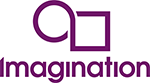 With the global market for wearable computing devices is set to boom in the next years and Google's recent announcement of the Android Wear, Imagination Technologies has announced the the Ingenic Newton platform.
Founded in 2005 and based in Beijing, Ingenic Semiconductor is a Chinese embedded CPU provider. The company designs its own MIPS-based, ultra-low power CPU called XBurst. The CPU adopts a high performance pipeline engine designed for power-efficient throughput. And according to Imagination Technologies, which uses specific CPU for its Newton platform, the the performance, silicon area and power consumption of XBurst outclasses designs based on competing CPU architectures.
The Ingenic Newton achieves impressive power consumption figures under typical workloads: standby power is 4mW, generic computing tasks take up to 100mW on average while peak power consumption is around 260mW. This means that Ingenic-powered smartwatches can last for 30+ hours on a single charge.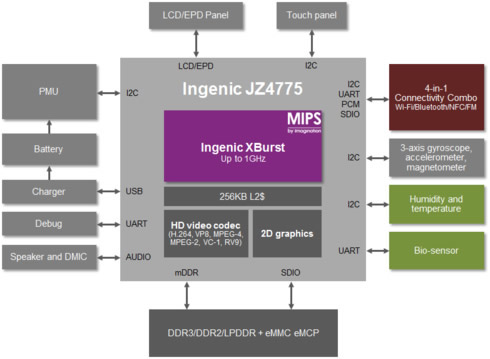 The platform includes a low power, 1GHz MIPS-based Ingenic JZ4775 CPU, a dedicated 2D graphics engine,a multi-standard VPU (MPEG-2, MPEG-4, VC-1, H.264, VP8, RV9) tahat supports 720p@30fps playback, 256KB L2 cache RAM + up to 3GB mobile DDR3/DDR2/LPDDR RAM + eMMC memory, and offers Wi-Fi (802.11 a/b/g/n at 2.4/5 GHz), Bluetooth 4.0 + EDR (including Bluetooth LE support), NFC and FM connectivity. Newton is also equipped with sensors including a 3-axis gyroscope, an accelerometer magnetometer, pressure, humidity and temperature sensors. It also supports bio-signal detection and processing and carries expansions slots -- UART, I2C, USB, GPIO.
The Ingenic Newton platform fits in devices about the size of a quarter dollar coin (21.6mm x 38.4mm), targeting markets such as wearables, IoT, healthcare, home appliances, security, industrial control, consumer electronics and many more.
An advantage of Ingenic Newton is its modular design, allowing companies to remove unneeded components from the module to reduce the BOM cost.
Both Imagination and Ingenic share the vision of supporting multiple open operating systems. Linux 3.0.8, Android 4.4 KitKat and several real-time operating systems have already been ported to the Newton platform and developers can access the open source drivers.