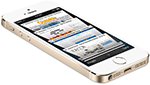 As it stands the displays used in Apple's iPhone look great. Sure, the Samsung Galaxy S5 has been found to have the best display in the market at the moment, but we're sure many can't deny that Apple's efforts are pretty good as well.
This is thanks to a chip used in Apple's displays which are provided by Renesas Electronics which helps the displays provide sharper images as well as better battery life. Well it looks like Apple could be thinking about buying the unit from Renesas Electronics responsible for making that chip, according to a report from Nikkei.
We know that Apple typically likes to control the production of its phone from start to end, choosing their own designs, integrating their own software, heck, and designing their own chipsets as well! Which is why this isn't a stretch of the imagination to think that Apple would want to control this part of the production process as well.
The division Apple is looking to purchase, Renesas SP Drivers, is a division comprised of Renesas, Sharp, and Powerchip, and Apple is reportedly looking to pay Renesas $479 million for their 55% share and are apparently interested in Sharp's 25% stake in the company as well. Powerchip is expected to retain the remaining 20%.
Assuming the deal is real and it does go through, the 240 employees at Renesas will continue working with Apple, with the Cupertino company expecting the deal to conclude by summer. In a statement released by Renesas, "There were media reports regarding Renesas SP Drivers, which were published in certain media.The reports were not based on announcement of Renesas and Renesas SP Drivers' announcement and they cannot be confirmed or regarded as fact at this time."